RC Net is a rock fall protection net comprised of wire mesh, wire rope, RC rock anchors, and shock absorbers.
A high-energy absorbing rock fall protection net employing terminating shock absorbers in conventional rock fall protection net anchors, and lateral shock absorbers at the intersections of the wire ropes, to absorb energy of falling rocks with shock absorbers and the frictional energy of wire rope.
RC Net is available in four types to suit differing site conditions. The sheathing and pocket types are designed to handle maximum rock falls of 200kN (approximately 20 tons), and maximum rock fall energy of approximately 8,000kJ, and are generally considered to be the top rock fall protection nets systems in Japan.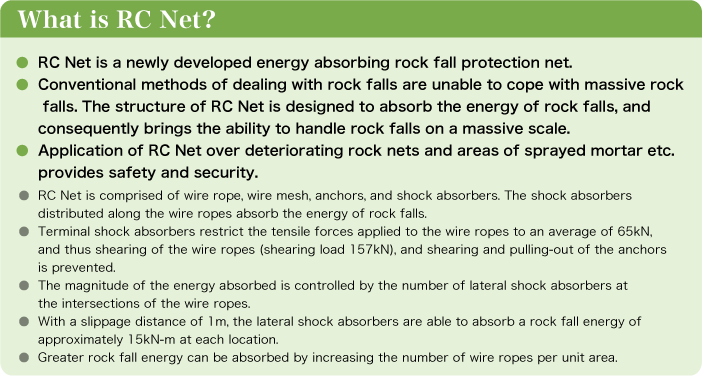 Installation Costs and Specifications
Net One
(pocket type)
200kN
Energy accommodated
8,000kJ
Direct construction costs
Y40,000 – Y45,000/㎡
RC Net Structure and Features